Testimonials
These are the words of just a few of the thousands faithful believers in deer velvet antlers ingredients. You to can experience these same results.
Justin Rys
IFBB Heavyweight and Overall Mr New Zealand Bodybuilding Champion 1999.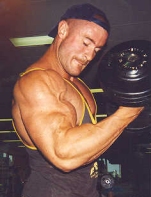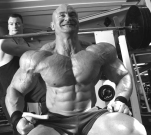 Velvita is endorsed by Justin Rys, Mr New Zealand, "Deer velvet gave me the extra edge."
"I introduced it as part of my training program to win the International Federation of Body Builders, 1999, Mr New Zealand title." Contact Justin here at bigkiwi@hushmail.com. Check out my book "Muscle Building Secrets Unleashed". Purchase only on this website.
Bob Charles, World Champion Veteran Golfer At the British Open several years ago he stated that healthy eating habits and vitamins, and two deer velvet tablets a day kept him feeling young. "I don't feel a day over thirty. I am sixty going on thirty". Dominion Newspaper
Some of New Zealandís top athletes have been using deer velvet antler with great results. It is used by:
Malcolm McDonald
Malcolm is a New Zealand representative Surf lifesaver. Since Malcolm's 9th placing in the beach sprint at the 1998 World Champs he has started to take Velvet.
Allan Sinclair
A veteran Ashburton marathon runner Allan has been taking on New Zealand's best, and winning. Allan's major goal is the world veteran games in 2001. Alan uses Velvet. He notes his recovery from both racing and training has improved.
Debbie Nelson
Debbie is an accomplished New Zealand duathlete who has been taking New Zealand Deer Velvet since January 1999. Having achieved her goal of winning the World Long Course Duathlon Champs, New Zealand Deer Velvet has become an integral part of her preparation.
Dean Jagusch
Dean started his international sporting career playing waterpolo, but from there has become a top New Zealand Professional Triathlete. Dean attained 5th place in the USTS 1999 Isuzu Pro Tour and is only getting better!
Hamish Carter
World No1 Ranked Triathlete 1999. He uses deer velvet as an important part of his training programme and credits it as a factor in his success.
Nick Tongue
Nick was in the NZ Relay team that broke the NZ record at the Canadian Commonwealth Games in Victoria, before going on to compete at the Olympics in Atlanta. NZ Deer velvet, as a dietary supplement, has been a part of his training programme.
Jo Steed
Jo has been a stalwart of Champion Otago Netball Team and a regular in NZ sides. Her sporting career was almost cut short by debillitating shin splints. The injury limited training and only allowed her to play half games. Jo used deer velvet not only as a sports dietary supplement but also as part of her injury recovery program.
Janene Harker
NZ Representative Judo, Water Polo and Surf Life Saving. World Champion Womenís Wave Ski 96-98. Janene has achieved a rare feat, NZ representative in three codes. She is based in Australia to better train to defend her world title and consequently does not receive the recognition she probably deserves. By anyone's standards, Janene's schedule is a hectic one. She uses NZ Deer Velvet to keep on top of it all.
--------------------------------------------------------------------------------
"Deer Antler Velvet is poised to be one of the most versatile multipurpose natural remedies to arrive in the West..."
Life Extension Magazine
--------------------------------------------------------------------------------
But velvet is not just for top athletes. Thousands of ordinary people use velvet for a wide range of reasons.
Further Testimonials On Deer Velvet Antler Use
John Ryan,age 49, from Upper Hutt, New Zealand says " Deer velvet has given me that extra zest to life. In fact my wife has told me to go off deer velvet as it gives me to much zip for her to handle".
In the December 1992 issue of the popular New Zealand journal Silver Horn, there was a story about Joyce who had suffered from arthritis for a number of years and who found it difficult to knock on someone's door because of the pain it caused. As she puts it: "I couldn't even close my right hand to make a fist before, but now I have no difficulty in doing so. I'm 62 years old. I've always taken vitamins, but once I started taking the velvet, the swelling and pain in my hands subsided."
S. Wintersteen, age 27, from Gary, IL says: "I am involved in playing and coaching many sports while trying to get in four solid weight workouts every week . . . velvet deer antler has increased my energy levels and workout capacity and I truly believe it prevents my body from breaking down..."
Kate Bradely from Wellington, New Zealand says "I have used a wide range of natural and pharamacuticual products for my arthitis. I still do. However, the use of deer velvet in conjunction with other products has improved my wellbeing in living with arthritis".